Photo via Competition Archery Media
The year's most anticipated tournament of the year wrapped up Sunday in Las Vegas, Nevada with record attendance and a record 24-man shoot down where Elite Archery's Chance Beaubouef impressed with a second place finish.
Shooting an Echelon 39, Beaubouef quickly led the way Friday with a perfect 300 26X, and improved on Saturday with a 300 28X. With competition heating up and several dozen with clean targets headed into the third day, Beaubouef held steady and dropped another clean round of 300 28X to earn his spot in the shoot down. While not his first experience in the Vegas Shootdown, the historic 24-man event proved to be an exciting challenge.
"This weekend in Vegas has been a mixture of emotions and to come so close to winning is definitely hard to swallow," Beaubouef said. "I am very thankful for how the weekend went, I couldn't be happier with how I shot and how I controlled my emotions. It is such a honor and a privilege to stand on the Vegas stage and shoot against the best in the world. This is such a great start to the 2019 year and pushes me to work harder for the next one!"
In her second Vegas Shoot appearance in as many years, having won the Women's Compound Open title in 2018, Alexis Ruiz proved her fortitude yet again. Finishing third for the weekend shooting her VictoryX, Ruiz put up impressive scoring from Friday through Sunday ending at 898 67X.
"When I came to Vegas this year I wasn't expecting much; when I shot the first day, the nerves hit me. I was shaking and nervous and I definitely struggled the first couple of ends. After I settled down, I started shooting better," said Ruiz. "The next two days went smoothly and I shot a 300 both days. Next thing I know, I'm in the shoot offs again, but it's for third place this time. I was happy to see my score was the same as last year. I took the shoot offs one arrow at a time, and I won in the end. I can't express how happy I am to have been on the podium two years in a row."
Coming off an impressive win at the Lancaster Classic just weeks ago, Elite shooter Trevor Silverson, shooting an Echelon 37, quickly turned heads with this 900 72X and first place Young Adult finish on the weekend. Also shooting an Echelon 37 in the World Archery Indoor World Series Final on Saturday night was Victoria Balzhanova from Russia, who bested opponent Paige Pearce for the Gold medal finish.
"The Vegas tournament it the most prestigious archery tournament on the planet. Parallel that with World Archery's World Series and it attracts the BEST archers in the world," said Darrin Christenberry, Elite Archery pro staff manager. "Seeing Elite shooters have success in both venues is a testament to their abilities and mental toughness. The "up and comers" and the seasoned veterans both shined this weekend!"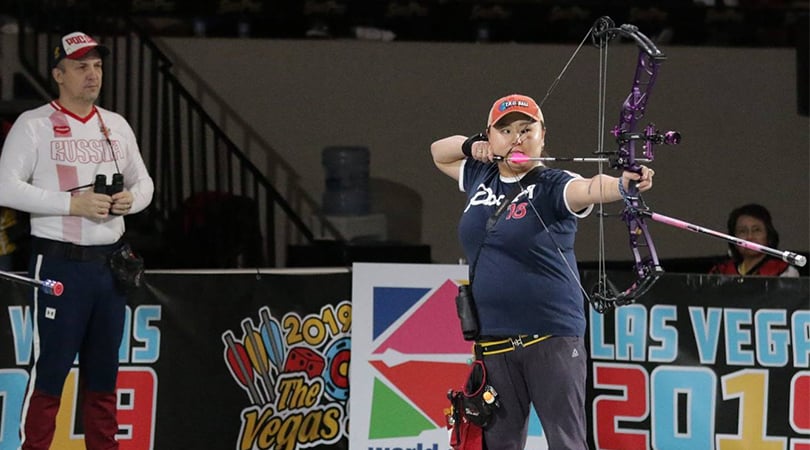 Photo via Competition Archery Media