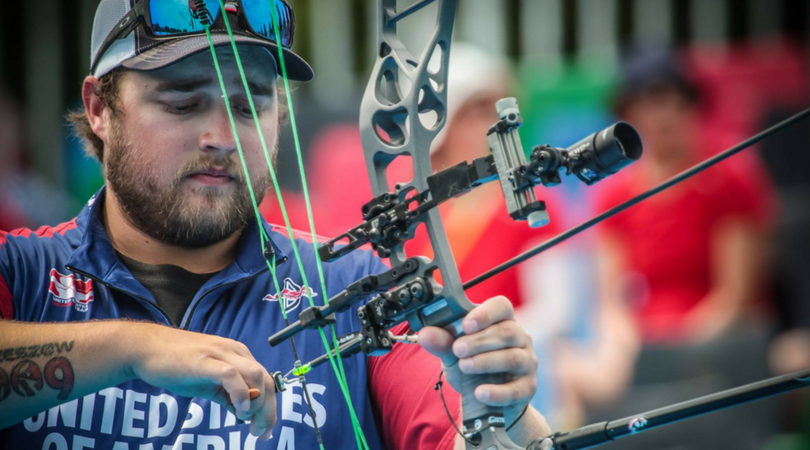 Photo via World Archery
In the fourth stage of the World Cup in Berlin, Germany, Elite Archery's Kris Schaff, proved once again why he's one of the best archers in the world, coming out of the weekend with two medals and one of eight spots in the World Cup Final.
Schaff shot into the second seed after the first day of qualifications, which, as the top male archer for the United States, earned him a spot on the Mixed Team and Men's Compound Team for the USA. Alongside his teammate Paige Pearce, the duo shot against the 3rd ranked mixed team from Denmark in the gold medal match and defended their title. Through the tight match, Schaff and Pearce didn't let up, refusing to allow Denmark an opportunity, and won the Gold medal with a final score of 155-154.
"Shooting with Paige, Braden and Steve on behalf of the United States is always a privilege, and coming away with two medals and a seat for the final is a huge success," Schaff said. "My Echelon shot amazing this weekend and I'm ready to start training for Samsun."
Later, Schaff took to the podium with Team USA's Braden Gellenthein and Steve Anderson for the Men's Compound team final against Croatia.
His continued performance through the World Cup stages earned Schaff a coveted spot among seven others to compete for a chance at the podium at the World Cup Final this September in Samsun, Turkey.
"Since his World Cup Gold in Nimes, France, earlier this year, Kris has proven he's a true competitor," said Darrin Christenberry, Elite Archery prostaff manager. "He's seeded 4th headed into the World Cup Final and I'm confident that you'll see him challenge for the podium in Samsun."