Proving once again there is not a tournament platform she can't excel in, Elite Archery's Alexis Ruiz impressed the field, earning two US National titles and a third place podium finish at the US Open over the weekend in Dublin, Ohio.
Day one of shooting at US National Target Championships (Outdoor Nationals) brought a solid round of 72 arrows for Ruiz, who finished the day seeded first with a score of 698. The afternoon brought a successful mixed event for the phenom, who teamed up with Matt Sullivan for the gold medal finish.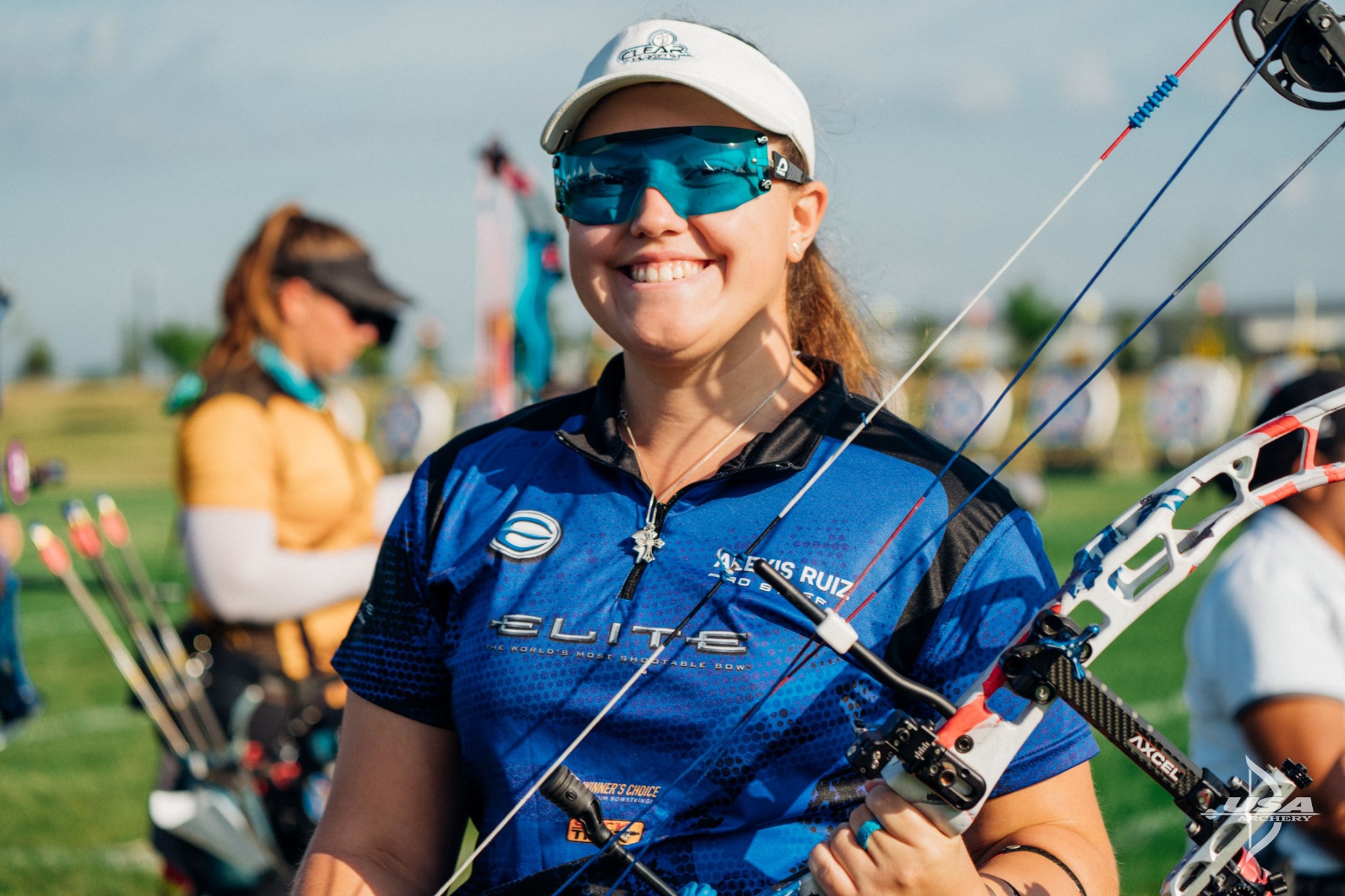 Photo via USA Archery
Heading into the second day of shooting, Ruiz set her sights on the podium. Up against a multi-way tie with two other archers, Ruiz, shooting her custom Victory X, clinched a gold medal victory in the final arrows.
"US Nationals went very well for me although I didn't shoot my best. I had to readjust goals throughout the tournament, but I was able to make strong shots," Ruiz said. "It feels amazing to have had another great tournament after the year I've had to date. I'm glad my Victory X is forgiving, and it helped me to keep my arrows in the middle."
Because two podium finishes weren't enough, Ruiz, having seeded herself in a top spot into the US Open eliminations, challenged for a spot on the podium. Battling the wind after two days of exceptional weather, Ruiz outscored veteran archer Jamie Van Natta (146-140) for the bronze medal.
"Where one athlete would consider multiple podium finishes a successful weekend, Alexis continues to challenge herself in a way I have not seen, but admire greatly," said Darrin Christenberry, Elite Archery pro staff manager. "I can't say it enough, Alexis is one incredible athlete both in skill and mental fortitude. She's shooting lights out with that Victory X and I can't wait to see where her archery career will take her."
Ruiz, along with Elite Archery teammate Curtis Broadnax, head to Madrid, Spain, to represent Team USA in the World Archery Youth Championships this week.