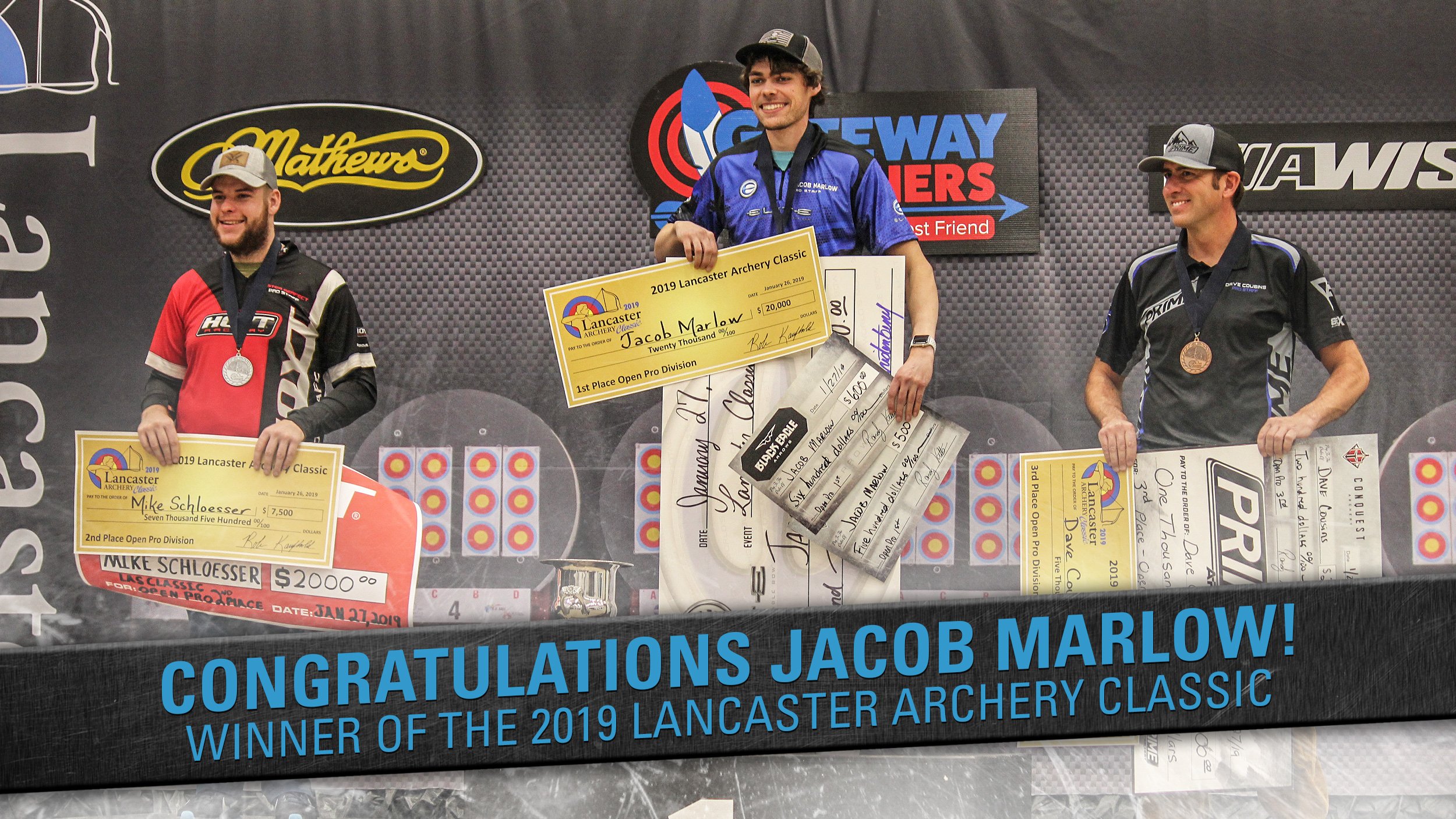 The Lancaster Classic, one of the year's most anticipated indoor tournaments hosted by Lancaster Archery Supply, concluded Sunday with Elite Archery's Jacob Marlow at the top of the podium with his Victory X.
Holding steady through Friday's qualifications, Marlow shot into the top 32 elimination matches on Saturday with Elite Archery teammates Chance Beaubouef, Garrett Ayersman, Glen Bordwell, Brandon Shehan and Jase Boils. Boils, new to the pro circuit, along with teammates Ayersman and Beaubouef challenged deep into the 1/16 alongside Marlow. Ultimately, Marlow earned a third seed in the 1/8 to compete in the shoot down Sunday.
Tensions high and a $30,000 payout on the line, Marlow faced and defeated Chris Hacker followed by Dave Cousins to enter into the final gold medal match against #1 seed Mike Schloesser of the Netherlands. Hitting closer and closer to center after each shot, Marlow sunk a center-X to Schloesser's 10 in the final deciding arrow for the championship win.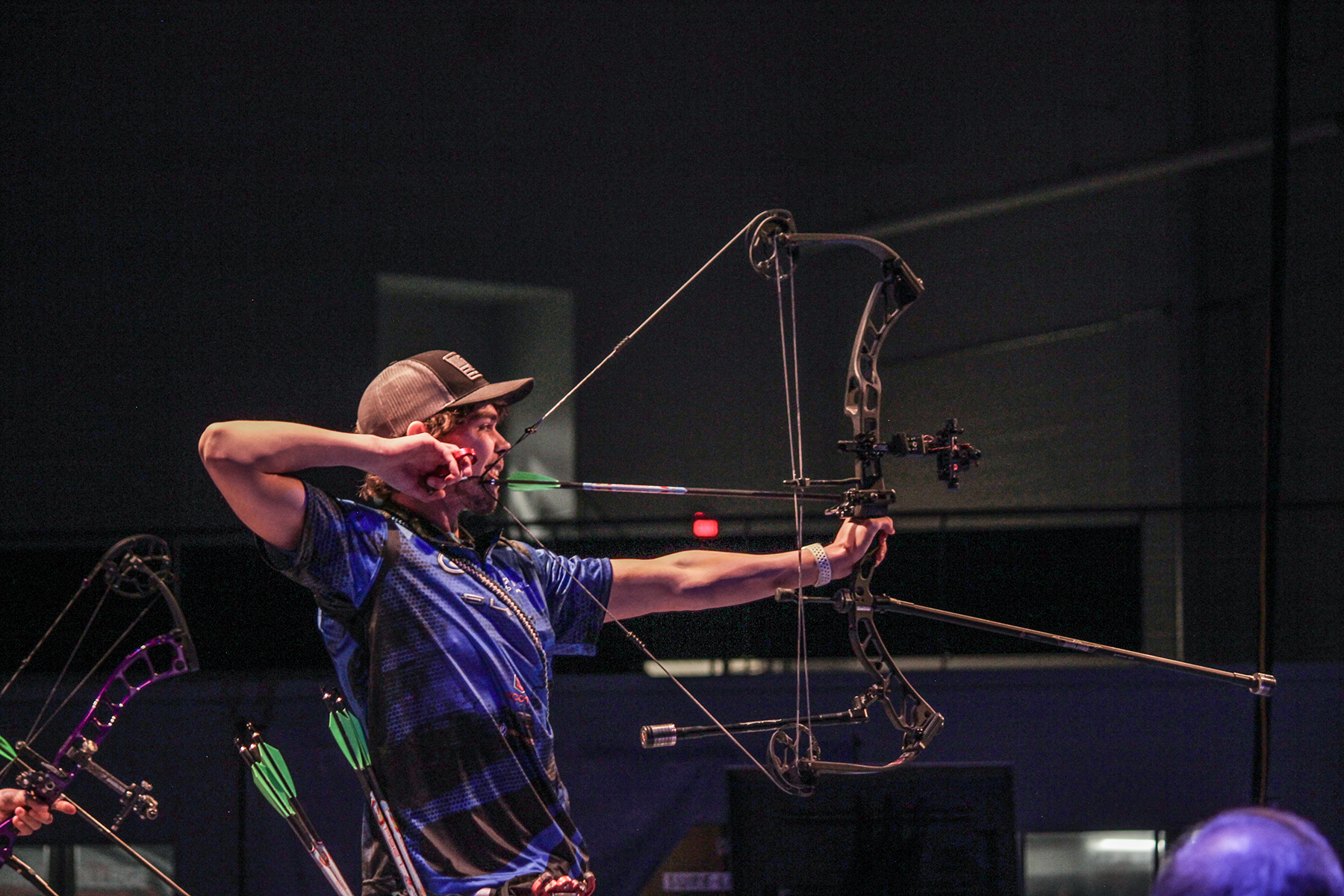 "I couldn't be more happy with how this season has started, having finished second at the Iowa Pro-AM and now a win here at the Lancaster Classic," Marlow said. "This shoot is my favorite of the year and one of the biggest tests of nerves under pressure there can be – which is why I'm always thankful knowing I have such forgiving equipment to give me that extra edge and confidence."
The Victory X is a bow built on the high-performing Victory platform built to the true Elite standard. With a 37" axle-to-axle and 6 ¾" brace height, the Victory X is engineered for forgiveness at a minimal 4.4 pounds. Take a look at the bow specs by clicking HERE, and schedule your Elite Shootability Challenge at an Elite dealer close to you.
Watch the final arrows thanks to coverage from Competition Archery Media.
"I have always been a Jacob Marlow fan and now I am even a bigger fan. Jacob has a great attitude towards his archery and knows that it is just bows and arrows; he doesn't stress over practice, he doesn't worry about the outcome, he just puts it in the middle and does what he practices!" said Darrin Christenberry, Elite Archery pro staff manager. "I admire his ability to just "flip the switch" and go from a fun loving jokester to a fierce competitor in a matter of seconds. He will always act like he hates indoor archery but the fist pumps I saw this weekend really show what this means to him. We are lucky to have him on our team!"
Young archers representing Elite Archery also left a large impression. Trevor Silverson, shooting an Echelon placed first in the Youth Male Open, while Haley Golden placed fourth in the Women's Open with her Option 6, and Kaci Therrien placed fourth shooting her Independence series Echelon in the Youth Easton Trophy class. Marlow and the rest of #TeamElite set their sights on The Vegas Shoot taking place February 8-10.