USA and NFAA Indoor Nationals wrapped up Sunday evening in Cincinnati, Ohio where Elite Archery's professional youth left a lasting impression with two hard-fought, major second place finishes by Alexis Ruiz and Jase Boils.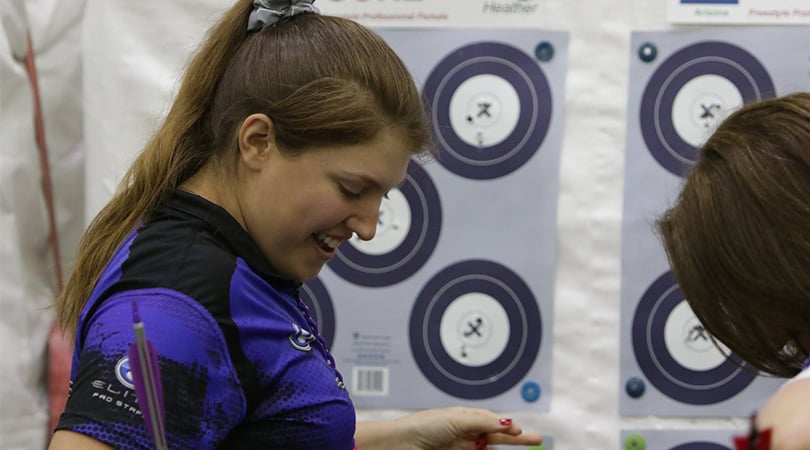 Photo via Competition Archery Media
Having qualified as the third seed for the USA Archery Indoor Nationals lineup, Alexis Ruiz, shooting an Elite Victory X, was the first of Team Elite to hit the competition floor in Cincinnati Friday afternoon. Besting her opponents in her first matches, Ruiz earned a spot in the gold medal match. There, she ended with a 147-144 for a silver medal finish.
"I was struggling to find my shot throughout the day, but kept my focus on making the best shot I could. I wasn't able to win the gold, so I brought home the silver," Ruiz said. "Overall, I was pretty happy with the day; my equipment was forgiving and performed great in the pressure situation and gave me confidence the entire weekend."
Alexis Ruiz Slow Motion Center-X from Coach Mel Nichols
Saturday began qualifications for NFAA Indoor Nationals, where a number of Elite Archery's athletes shot clean 300 rounds including Nathan Brooks, Jacob Marlow, Chance Beaubouef, Jase Boils, Junior Sizemore and Glen Bordwell. The second day of shooting on Sunday commenced with Boils and 2018 defending champion Marlow earning spots in the 21-man shoot down.
Competing deep into the nail-biting multi-end shoot down, Marlow ended his night in fifth, while 18-year old Cumberland's College freshman, Boils, shooting a Victory X, continued to drill center-x after center-x for a chance at first against Rich Bowen and world ranked archer, Stephan Hansen from Denmark. A clean 25 end from Hansen secured his first place finish, while 24's from Boils and Bowen forced another end to determine second and third place. In that deciding end, five for five center-X's from Boils secured an impressive second place finish against Bowen.
"I'm really pleased with how I shot this weekend and how my equipment performed," said Boils. "My VictoryX is loaded with a stout combination and it showed this past weekend – I can't wait to get back into the 3D woods."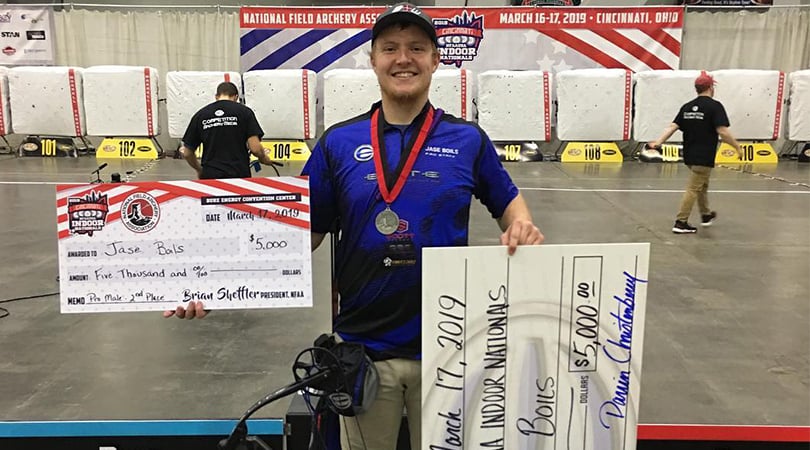 Ruiz and teammate Jillian Ballengee, shooting a Ritual 35 finished tied for sixth on the weekend, while 2019 Young Adult Vegas and Lancaster Classic champion, Trevor Silverson, shooting an Echelon 37, followed with a third place Adult Male Freestyle finish. Also finishing on the NFAA podium for the weekend as of press time were Fiona McClean (third, Senior Female Freestyle), Eddie Whobrey (second place, Silver Senior Male Freestyle) and Bethany Lunger (second place, Female Young Adult Freestyle).
"I'm incredibly proud of Team Elite's shooters this weekend, especially our young shooters who continue to prove the sky is the limit," said Darrin Christenberry, Elite Archery pro staff manager. "It's no surprise to see Alexis on the podium again with how solid she's been performing this year, and Jase is just as hungry, motivated, confident and bulletproof that I'm positive we'll see big things from him in the future."