Elite Archery unveils the newest addition to the Ritual family: the Ritual 35. The 35-inch axle to axle offering has been a popular staple in the Elite lineup. Adding the smooth efficiency of the Ritual system has delivered rave reviews from early users.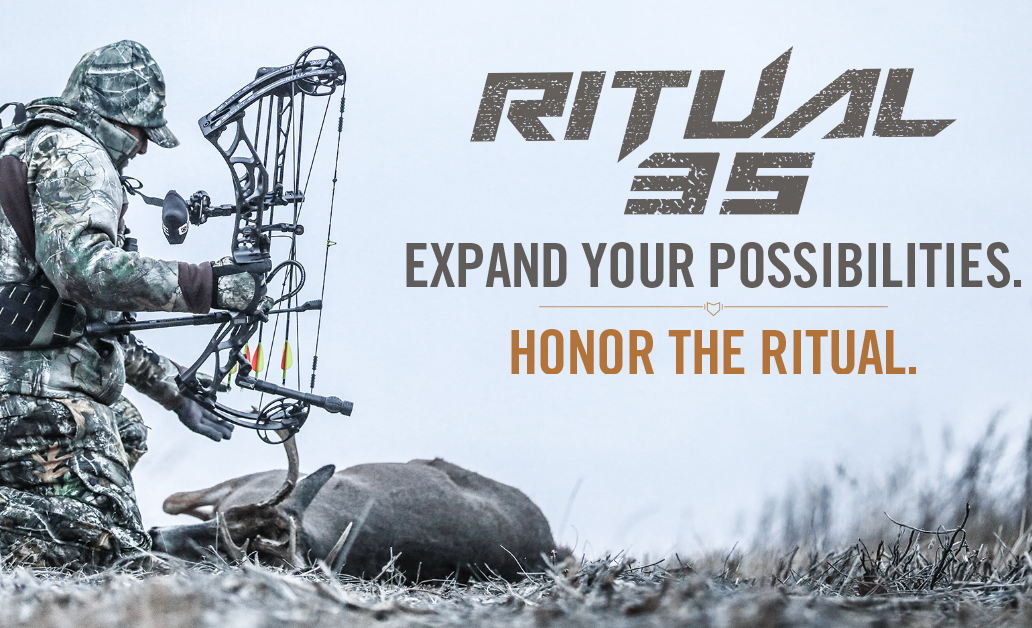 The Ritual 35 rounds out the Ritual family of bows, delivering a bow for any archer. The 35-inch axle to axle produces impressive specs. The bow has a brace height of 6 7/16". Draw lengths are available in half-inch increments from 26.5" to 31". The Ritual 35 weighs in at 4.4 pounds with let-off from 75% - 90%. The Ritual 35 continues the Ritual tradition of industry-leading efficiency ratings. Combined, this platform delivers an IBO speed of 336 fps.
"Elite fans have long loved the benefits of a 35-inch bow," said Josh Sidebottom, COO of The Outdoor Group. "The efficiency of the Ritual platform delivers a smooth shooting experience. The 35-inch geometry gives you a bow that aims incredibly well. I suspect that we'll see this bow in the hands of many archers. From spot-and-stalk western bow hunters to 3D competitors, this bow has a lot to offer. Head in to your local Elite dealer to experience real Shootability for yourself."
The Ritual platform is designed with the archer in mind. It is the ideal combination of Shootability, fit, and finish. Industry leading efficiency. With this new introduction, the Ritual family now includes 30", 33", and 35" axle to axle bows. This expansion of the Ritual platform means that there is a perfect Ritual for everyone.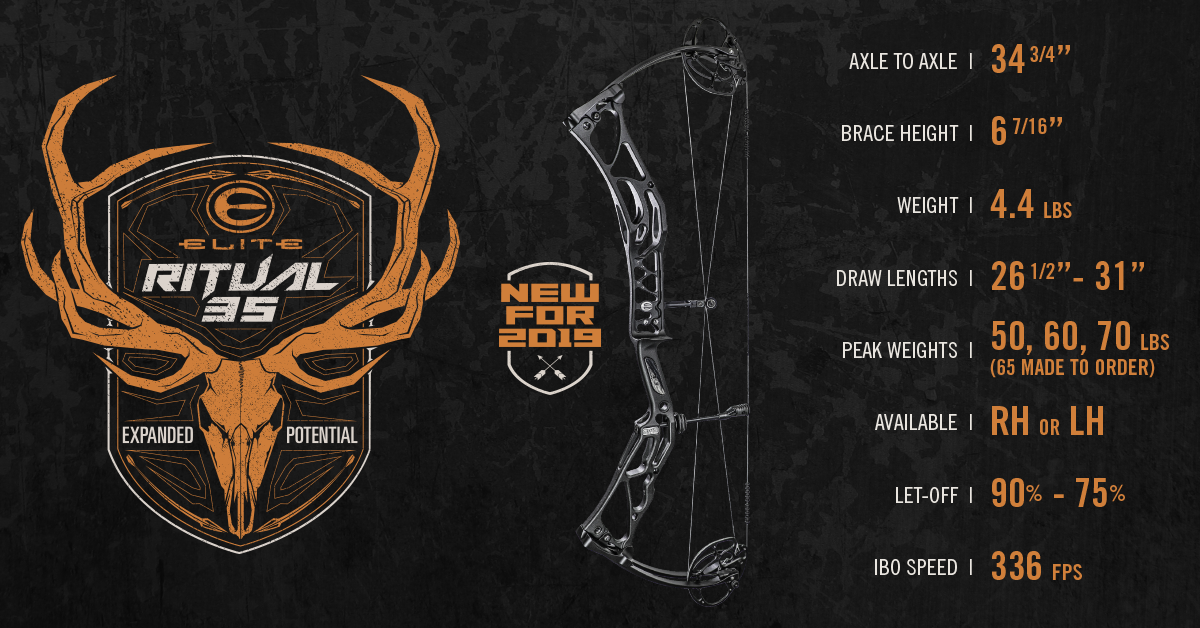 Elite's 2019 Ritual 35 is standard in peak weights of 50, 60, and 70 pounds. 65-pound draw weight is available as a special order from the factory. It is also available in a variety of popular camouflage patterns and colors. The 2019 Elite Ritual 35 has a suggested retail price of $1,049.
The Ritual 35 is available right now at many participating local Elite dealers. A complete listing of dealers with Ritual 35's can be found online at https://www.elitearchery.com/dealer-locator
To learn more about the 2019 Ritual, visit your local Elite dealer. Take the Shootability Challenge to feel the Elite difference. You can also visit www.elitearchery.com to see the complete specs. Follow us on Facebook at www.facebook.com/EliteArchery for all the latest information from Elite.