The stakes were high, the competition was tough, and Elite Archery's winningest athlete, Kris Schaff, was ready. Just two years into his World Archery World Cup circuit, Schaff made his debut as the fourth seed at the Hyundai World Cup Final in Samsun, Turkey and left a champion.
Having collected a number of accomplishments throughout the 2018 tournament season, including a World Archery Nimes gold medal, Vegas silver and Antalya silver, Schaff was prepared to face the number one seed, Mike Schloesser of the Netherlands, in his first match. The two are familiar competitors, having already exchanged arrows in numerous nail-biting events; this match was no different. Schaff, shooting a VictoryX, dominated the five ends and bested Schloesser with a final score of 146-145.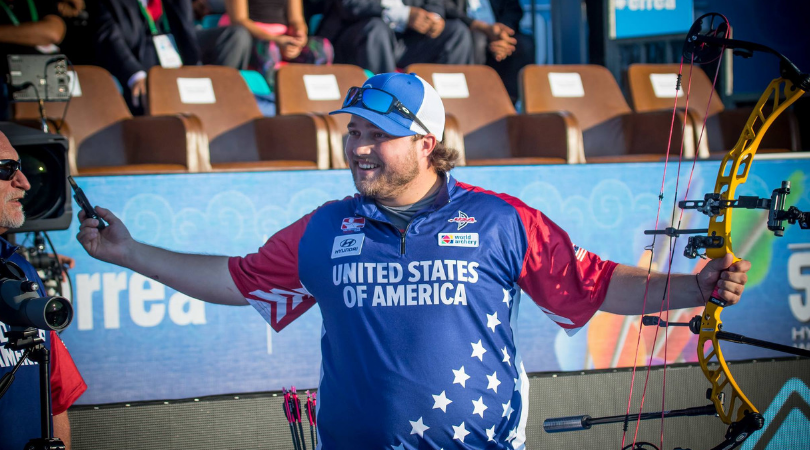 Photo via USA Archery
"This year has been a total whirlwind and I am beyond thrilled with the outcome and gold medal win to close out the 2018 season," Schaff said. "Having my dad there in the coaches box, Team USA standing behind me, and the best equipment an archer could ask for – it's just been incredible and I'm so thankful."
Schaff's next opponent in the semifinals would be Korea's Kim Jongho, where he'd give away just two 9's for a final score of 148-147 to move on to the gold medal match against the host-country's Demir Elmaagacli. While Elmaagacli didn't qualify for the 2018 Hyundai Archery World Cup Final, he received the invitational spot given to Turkey as the host country. Elmaagacli is no stranger to the setting, having won the championship in 2015.
Schaff led from the first end with an X-X-10, followed with a 10-X-10, then an off-character 10-8-10 gave way to a commanding X-10-X and final 10-10-X to seal his 2018 Hyundai Archery World Cup Championship win (148-146).
"When you are contending with eight of the top archers in the world, you can't necessarily call any win an "upset" of the other, however Kris championed over undoubtedly, the most difficult and most seasoned opponents World Archery has to offer," said Darrin Christenberry, Elite Archery pro staff manager. "Kris has made a statement this year and this gold medal solidifies that statement – he's on top of his game and he's not done yet."