The power lines of London, Kentucky present some of the more challenging conditions for Archery Shooters Association (ASA) athletes, with targets tucked back into dark, gloomy shooting lanes. There, Elite Archery's Chance Beaubouef followed his 2018 first place London finish, with a second place finish in 2019.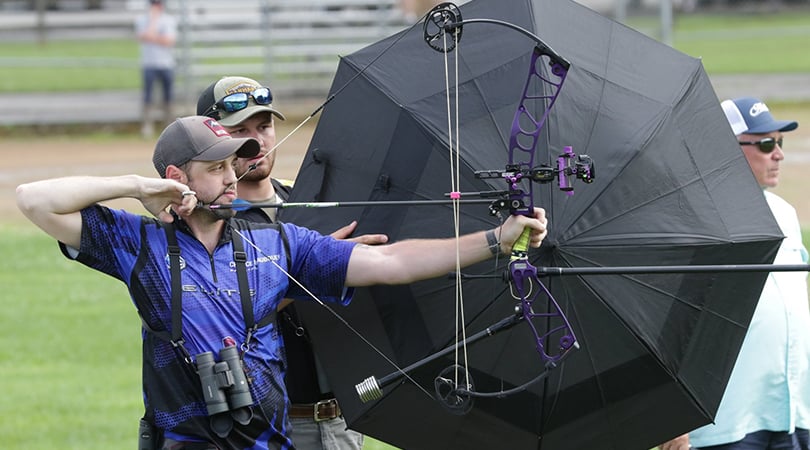 Photo via Competition Archery Media
"I had a pretty good weekend in Kentucky, shooting 34 up for the weekend and went into the shootdown in fourth," Beaubouef said. "I was able to hit three 14's and work my way up to second – I could be happier with how my setup is shooting."
Check out Chance's podium-topping bow, the Echelon 39.
Also finishing in the top ten in the Known Pro class were Garrett Ayersman (4th) and Jacob Marlow (9th). With one more tournament to play on the ASA circuit, Ayersman sits 10 points behind the lead for Shooter of the Year, with Beaubouef also just trailing the lead by 12. Tommy Gomez finished in 7th place in the Men's Open class on the weekend and Elite Archery's amateur shooters also had a successful outing, with many podium finishes recorded including the following:
Jillian Ballengee – 1st – Women's K45
Jaime Brecount – 1st – Women's Open B
Charles Buhler – 1st – Master Senior
Brayden Jones – 1st – Open B
Haley Golden – 1st – Women's K40
Maley Brooks – 2nd – Women's Hunter
Adam Gipson – 2nd – Open C
"With just one ASA tournament to shoot in 2019 (Metropolis), I couldn't be more proud of #TeamElite and their performances so far this season," said Darrin Christenberry, Elite Archery pro staff manager. "It really is a testament to their skill as athletes, and their comfort and confidence in their equipment, to consistently place among the top spots in so many classes."